This article belongs to Phineasnferb. Please ask him/her/them before editing the article. If you do so without asking, or if the owner(s) say(s) no, you will get a warning. If you continue, you will be blocked.

(July 23, 2013)

For a different version of this, click here.
The next installment in the VeggieTunes series. It includes songs from Sumo of the Opera, Duke and the Great Pie War, and Minnesota Cuke and the Search for Samson's Hairbrush.
Songs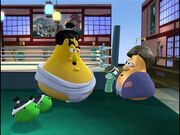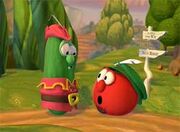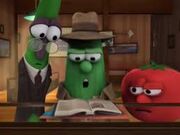 VeggieTales Theme Song
Going Up (score)
School House Polka
Wrestlers of Japan
A Joking Sumo
He's Accepted the Challenge
He's Accepted the Challenge (reprise)
A Sumo Can't Go Wrong
The Feeling of Finishing
What Can A Baby Do?
Larry's Blues
Ballad of the Pie War
I'm Robin Hood
I'm Robin Hood (reprise)
Pizza Angel
Minnesota Cuke Theme Song
What We Have Learned (Larry's brothers)
Community content is available under
CC-BY-SA
unless otherwise noted.