For the real VeggieTunes 3, click here
What if VeggieTunes: A King, A Queen and A Very Blueberry was considered a bonus album and had released a VeggieTunes 3? Well this article refers to this exact CD! It includes songs from Lyle the Kindly Viking, Jonah: A VeggieTales Movie, and The Star of Christmas. This album would've been released on August 7, 2003.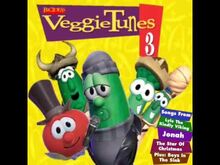 Tracklist
VeggieTales Theme Song
Larry's High Silk Hat
We're Vikings
What's Up With Lyle
Dear Monks/Thank You
Not So Fast/My Share Of Friends
Look Olaf
The Storm (Score)
Our Share Of Friends
We're Vikings (Reprise)
Message From The Lord
It Cannot Be
Second Chances
Jonah Was A Prophet
Belly Of The Whale
Our First Big Break(Original/Reprise)
Plugged Up Love
Bellybutton
What Have We Learned
Trivia
In real life, A King a Queen and Very Blueberry was consider to be the third VeggieTunes album.
Video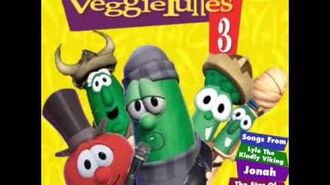 Community content is available under
CC-BY-SA
unless otherwise noted.