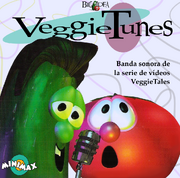 This version of the first VeggieTunes album is translated into European Spanish, featuring the same European Spanish audio tracks from the original VHS dub and is based on VegeHits, the only 1990s album released for VeggieTales in Brazil.
VeggieTales (VeggieTales Theme Song)
Dios es más grande (God Is Bigger)
Canción del búfalo de agua (The Water Buffalo Song)
Rey Darío (King Darius Suite)
¡Oh, no! ¿Que vamos a hacer? (Oh No! What We Gonna Do?)
Nosotros sabemos, rey Darío (We've Got Some News)
No temas, Daniel (Fear Not, Daniel)
Somos las uvas malas (We are The Grapes of Wrath)
Algunas verduras fueron al mar (Some Veggies Went to Sea)
La canción del perdón (The Forgiveness Song)
Ocupado, ocupado (Busy, Busy)
Ame su vecino (Love Your Neighbor)
La canción del cepillo de pelo (The Hairbrush Song)
Yo puedo ser su amigo (I Can Be Your Friend)
Lo que tenemos aprendido (What Have We Learned)
Community content is available under
CC-BY-SA
unless otherwise noted.