This article belongs to Kirby+ Veggie Fan, VannaTheHedgehog and DrBeansonsSister. Please ask him/her/them before editing the article. If you do so without asking, or if the owner(s) say(s) no, you will get a warning. If you continue, you will be blocked.

(May 26, 2019)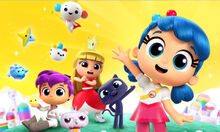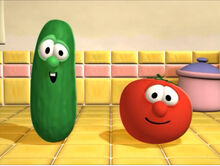 VeggieTales and True: Quest for the Rainbow Kingdom! is a VeggieTales x True and the Rainbow Kingdom cross-over. It was developled by Big Idea, Nintendo and Guru for the Nintendo Switch and PS4. In the game, the VeggieTales gang finds a portal to the Rainbow Kingdom and help save it from Glummy Glooma!
Playable Character Teams:
Edit
Unlike the other VT games, this game features a CPU helper ALL THE TIME (unless there's a second player waiting to play). You can choose your character from each team and the 2nd player or CPU controles the other.
LarryBoy and Thingamabob: a classic superhero team we love. They stand against sadness and fight for what's right!
True and Bartelby: the rightful heroes of the Rainbow Kingdom! They are given 3 wishes by their friend, Zee, for solving puzzles.
Community content is available under
CC-BY-SA
unless otherwise noted.