VeggieTales Instrumental Collection is a 19-disc set, featuring all the VeggieTales instrumentals uploaded to YouTube up to this point.
VeggieTales Theme Song
God is Bigger
The Water Buffalo Song
King Darius Suite
Oh No! What We Gonna Do?
We've Got Some News
Fear Not Daniel
You Were in His Hand
We Are the Grapes of Wrath
Some Veggies Went to Sea
The Forgiveness Song
Busy, Busy
Love Your Neighbor
The Hairbrush Song
I Can Be Your Friend
What We Have Learned
VeggieTales Theme Song
Good Morning George
Think of Me
The Bunny Song
Dance of the Cucumber
Stand!
Big Things Too
Love My Lips
Can't Believe It's Christmas
Grumpy Kids
Oh, Santa!
VeggieTales Theme Song
The Pirates Who Don't Do Anything
It's Laura's Fault
It's Lenny's Fault
LarryBoy Theme Song
Promised Land
The Song of the Cebú
The Lord Has Given
Keep Walking
The Lord Has Given (Reprise)
VeggieTales Theme Song
I'm So Blue
Stuff-Mart Suite
Salesmunz Rap
His Cheeseburger
Thankfulness Song
Stuff Stuff, Mart Mart
The Yodeling Veterinarian of the Alps
VeggieTales Theme Song
The Rumor Weed Song
The Rumor Weed Song (The W's)
I Love My Duck
I Must Have It
Endangered Love
There Once Was a Man
The Selfish Song
Lost Puppies
The Battle Prelude
Haman's Song
The Battle is Not Ours
VeggieTales Theme Song
Larry's High Silk Hat
We're Vikings
What's Up with Lyle?
Dear Monks
Not So Fast
Look Olaf!
What Do You Think You're Doing?
Share of Friends
We're Vikings (Reprise)
Do the Moo Shoo
Flushing in Vain
Plugged Up Love
VeggieTales Theme Song
Auto-Tainment Theme Song
There's a Hole in the Bottom of the Sea
Zacchaeus
Modern Major General
You Are My Sunshine
Erie Canal
My Day
Dream of a Dozen Cactus
Mayor's Dream
Oh Little Joe
Bellybutton
What We Have Learned (Western)
VeggieTales Theme Song
Another Easter Day
Another Easter Day (Reprise)
113 Years Ago
You Didn't Listen Ebenezer
Boids
Hope's Song
I Want to Dance
I Want to Dance (Disco)
Sport Utility Vehicle
Schoolhouse Polka
Wrestlers of Japan
A Joking Sumo I
He's Accepted the Challenge
The Feeling of Finishing
VeggieTales Theme Song
What Can a Baby Do?
The Blues with Larry
Ballad of the Pie War
I'm Robin Hood
I'm Robin Hood (Reprise)
Pizza Angel
A Little More of This
Not an Ordinary Bean
To Have a Gift
To Have a Gift (Reprise)
My Baby Elf
VeggieTales Theme Song
Gated Community
Call on Us
Temptation Song
Rock On, LarryBoy!
Lance the Turtle
The Great I Am
Attack of the Midianites (score)
What We Have Learned (Ukulele)
VeggieTales Theme Song
Oh Lone Stranger
Oh Lone Stranger (Reprise)
The Boy That We Call Moe
God Did
A Mess Down in Egypt
The Mayor Wouldn't Listen
Somewhere Beyond the Barn
Come Out Little Munchies
His Name is Darby
Follow Old Yellow McToad
It's Time to See the Wizard
Monkey
With a Ha-Ha-Ha
You Can Always Come Home
Over the Rainbow
The Biscuit of Zazzamarandabo
VeggieTales Theme Song
Sneeze if You Need To!
Right Right Now
Hum, Ding, Purr, Whee
Mexican Ice Cream
Wicker's Song
Sippy Cup
Hope It's Gonna Be Christmas
Greece, Greece, Greece
I Can Love
Donuts for Benny
Give This Christmas Away
VeggieTales Theme Song
Listen Little Children
No Strings Attached
Where Have All the Staplers Gone?
You and You Alone
Meatballs at Night
Pants
110 Percent
110 Percent (Reprise)
Precious Girl
Precious Child
Munchy Dream Jingle
Cheesy Dream Jingle
Goodnight Junior
Down These Tracks
VeggieTales Theme Song
The Hopperena
Astonishing Wigs
The Eight Polish Foods of Christmas
VeggieTales Theme Song
Bubble Rap
Ham I Am
Best Friends Forever
Supper Hero
VeggieTales Theme Song
Solid Stuff
Happy Tooth Day
Lend a Little Hand
Kilts and Stilts
Light of Christmas
VeggieTales Theme Song
Asteroid Cowboys
Enough to Share
Together
Together (Finale)
My Golden Egg
Billy Joe McGuffrey
Message from the Lord
It Cannot Be
Jonah Was a Prophet
Belly of the Whale
The Credits Song
Spanish Gold
Yo Ho Hero
What We Gonna Do?
God is Bigger (1st half)
The Bear Trap Song
A Friend is a Friend
O Come O Come Emmanuel
Happy Ki-Yi Birthday
The Water Buffalo Song (Live Show Version)
The Hairbrush Song (Boyz in the Sink Version)
I Can Be Your Friend (Boyz in the Sink Version)
Larry Learns to Listen
Bob Lends a Helping Hand
If I Sang a Silly Song Opening Score
VeggieTales Theme Song (If I Sang a Silly Song Version)
VeggieTales Live Medley
Disc 1 is basically just an instrumental version of VeggieTunes.
Video Gallery
Edit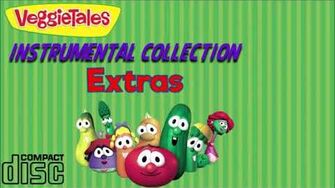 Community content is available under
CC-BY-SA
unless otherwise noted.