This article belongs to Phineasnferb. Please ask him/her/them before editing the article. If you do so without asking, or if the owner(s) say(s) no, you will get a warning. If you continue, you will be blocked.

(October 1, 2018)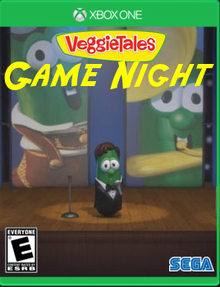 VeggieTales Game Night is a VeggieTales video game exclusively for the Xbox One. It was published by Sega. It features 10 family games for up to 4 players.
Playable Characters
There are a total of 20 playable characters. 12 are available from the start, while the other 8 must be unlocked.
Starters
Larry the Cucumber
Bob the Tomato
Archibald Asparagus
Junior Asparagus
Laura Carrot
Madame Blueberry
Jimmy Gourd
Jerry Gourd
Mr. Lunt
Mr. Nezzer
Pa Grape
Petunia Rhubarb
Unlockable
LarryBoy
Khalil
Scallion #1
Frankencelery
Games
There are 10 games to play in this game.
Yahtzee
Trivia
Go Fish
Checkers
Bingo
Dominoes
Monopoly
Spoons
Chess
Pool
Music
You can choose to listen to some Veggie songs instead of the normal game background music. There are 30 songs to choose from.
VeggieTales Theme Song
God Is Bigger
The Forgiveness Song
I Can Be Your Friend
Good Morning George
Stand
Big Things Too
Love My Lips
The Pirates Who Don't Do Anything
LarryBoy Theme Song
Promised Land
Keep Walking
Salesmunz Rap
His Cheeseburger
The Yodeling Veterinarian of the Alps
The Rumor Weed Song
I Love My Duck
Endangered Love
Haman's Song
We're Vikings
Larry's High Silk Hat
Belly Button
I Want To Dance
Pizza Angel
Call On Us
Lance the Turtle
Monkey
Sneeze If You Need To
Pants
Solid Stuff
Community content is available under
CC-BY-SA
unless otherwise noted.