This article belongs to Phineasnferb. Please ask him/her/them before editing the article. If you do so without asking, or if the owner(s) say(s) no, you will get a warning. If you continue, you will be blocked.

(September 10, 2017)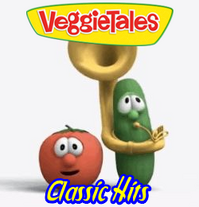 VeggieTales Classic Hits is an album that features 50 classic songs from the many years of VeggieTales's history.
Tracks
VeggieTales Theme Song
God Is Bigger
The New and Improved Bunny Song
Big Things Too
Belly Button
The Rumor Weed Song
Pizza Angel
The Water Buffalo Song
Rock On, LarryBoy
Stand!
I Can Be Your Friend
The Thankfulness Song Medley
Lance the Turtle
Monkey
Oh Little Joe
King Darius Suite
I'm So Blue
Lost Puppies
We're Vikings
We've Got Some News
Pants
LarryBoy Theme Song
His Cheeseburger
The Hairbrush Song
The Forgiveness Song
Can't Believe It's Christmas
My Golden Egg
Solid Stuff
Fear Not, Daniel
Love Your Neighbor
Stuff-Mart Suite
Temptation Song
Sippy Cup
Bubble Rap
Larry's Blues
What Can A Baby Do?
The Battle Is Not Ours
On These Tracks
Come In Twos
It's Laura's Fault/It's Lenny's Fault
The Pirates Who Don't Do Anything
Second Chances
The Grapes of Wrath
Promised Land
My Baby Elf
Keep Walking
The Yodeling Veterinarian of the Alps
I Love My Duck
Call On Us
Oh Lone Stranger
Community content is available under
CC-BY-SA
unless otherwise noted.