This article belongs to Phineasnferb. Please ask him/her/them before editing the article. If you do so without asking, or if the owner(s) say(s) no, you will get a warning. If you continue, you will be blocked.

(September 30, 2018)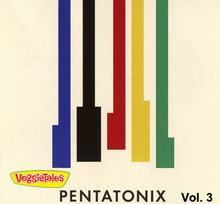 VeggieTales: Pentatonix Vol. 3 is the third album of VeggieTales songs covered by Pentatonix. It features 20 VeggieTales songs done entirely in acapella.
Songs
VeggieTales Theme Song (Live Version)
Happy Ki-Yi Birthday from "The Ballad of Little Joe"
Come In Twos from "Noah's Ark"
Happy Tooth Day from "The Little House That Stood"
God's Way from "Bob and Larry's Sunday Morning Songs"
We've Got Some News from "Where's God When I'm S-Scared?"
We're Barber-barians from "MacLarry and the Stinky Cheese Battle"
Jonah Was a Prophet from "Jonah: A VeggieTales Movie"
Larry's High Silk Hat from "Lyle the Kindly Viking"
Spanish Gold from "The Pirates Who Don't Do Anything: A VeggieTales Movie"
What Can A Baby Do? from "Duke and the Great Pie War"
When You Finally Know What It's For from "Lord of the Beans"
Temptation Song from "LarryBoy and the Bad Apple"
Not So Fast from "Lyle the Kindly Viking"
Love Your Neighbor from "Are You My Neighbor?"
Big Things Too from "Dave and the Giant Pickle"
With a Ha-Ha-Ha from "The Wonderful Wizard of Ha's"
Can't Believe It's Christmas from "The Toy That Saved Christmas"
Wrestlers of Japan from "Sumo of the Opera"
What We Have Learned (Ukulele Version) from "Gideon: Tuba Warrior"
Community content is available under
CC-BY-SA
unless otherwise noted.