This article belongs to VeggieFan2000. Please ask him/her/them before editing the article. If you do so without asking, or if the owner(s) say(s) no, you will get a warning. If you continue, you will be blocked.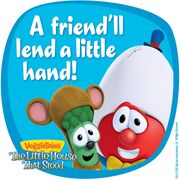 Twice Upon A Wall: Are You Not My Neighbor?
is a sequel to "The Good Egg of Gooseville" story. It teaches kids about peer pressure.
The Countertop
Edit
The League introduce themselves. LarryBoy mentions that he had to deal with his beliefs. He tells Thingamabob that it all started after "the Stinky Cheese Battle". After they made the show, him and Lenny, Annie, Laura, Percy, Ermie, and Gordon went out for Chinese food. Then they went to Percy's house to play some video games. Thingamabob, Vogue, and S-Cape wonders where this went. LarryBoy also mentioned that there was even a horror film that they shouldn't watch. Thingamabob thinks that is a tricky question, and shows a story about an egg mayor and his citizens who get themselves in a pickle of their own.
The Story
Edit
What We Have Learned
Edit
Good Morning, Mr. Mayor
The Ultimately Final (Well, Maybe Not Final) Frontier
Give Me Your Money! It's All Mine!
Red or Blue
The Dark Side
Stand!
What We Have Learned
Running Gags
Edit
Silly Song
Edit
Battle Songs with Larry "Red or Blue"
What We Have Learned song
Edit
Space
Kid they Got a Letter from
Edit
Alexander Paxton
This has a lesson in resisting peer pressure, just like "Rack, Shack & Benny". Plus, Stand is sung again.
LarryBoy mentions "MacLarry & the Stinky Cheese Battle"
The letter Mayor Humpty reads: "Dear Mister Pischer, I am a huge fan of yours and wondered if I could ask you to come entertain us at my next birthday party. We will be celebrating at Burger Bell. Don't worry about the price of the burgers. I will pay for everything. It's the least I can do. Feel free to email me at your convenience. I am turning even older next year. Yours most sincerely, Mayor Humpty".
The League of Incredible Vegetables host the show.
This is the 2nd Good Egg of Gooseville episode. The first was "The Little House that Stood".
This is an outer space adventure, just like "Veggies In Space: The Fennel Frontier" and "The Gourds Must Be Crazy" (From "Are You My Neighbor?").
Pa Grape wore the same costume Bob had when he was Buzz Lightyear.
Mayor Humpty trips over a rock, and a knife messes up Jumping Jack's hair. This is a reference to MacLarry tripping over, and his razor messing up MacBob's hair in "MacLarry & the Stinky Cheese Battle".
Bob (Thingamabob, Mayor Humpty)
Larry (LarryBoy, Jumping Jack)
Junior (Ricochet, Baby Bear)
Mr. Lunt (S-Cape, Papa Bear)
Petunia (Vogue)
Laura (Goldilocks)
Ellen (Mama Bear)
Madame Blueberry (Miss Muffet)
Jean-Claude Pea (Jack)
Ermie Asparagus (Little Bo Peep)
QWERTY
Alex Paxton
Li'l Sister (Jill)
Jimmy Gourd (Bellhop)
Archibald (Narrator)
Mr. Nezzer (Alfred the Robot)
Princess Eloise (Space Captain #1)
Jerry Gourd (Space Explorer #1)
Scallion #1 (Space Captain #2)
Kitchen Remodeler Scallion (Space Explorer #2)
Pa Grape (Space Ranger)
Community content is available under
CC-BY-SA
unless otherwise noted.