This article belongs to Phineasnferb. Please ask him/her/them before editing the article. If you do so without asking, or if the owner(s) say(s) no, you will get a warning. If you continue, you will be blocked.

(October 25, 2015)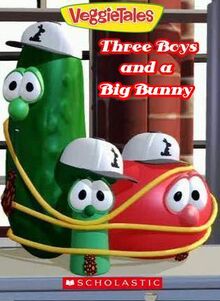 Three Boys and a Big Bunny is the eighth VeggieTales chapter book. It is published by Scholastic. Unlike the previous two chapter books, it reverts back to the original 96 pages, and includes 8 pages of full-color scenes from the video. The book is based on "Rack, Shack, and Benny."
Book Description
Standing up for what you believe in is hard! Especially for three boys named Rack, Shack, and Benny. After selling 2 million bunnies at the Nezzer Chocolate Factory, everyone is allowed to eat lots of bunnies. The boys, however, don't eat any and are promoted to junior executive. But this means they have to bow down to a giant bunny idol, and this goes against what they believe. Will Rack, Shack, and Benny be able to avoid a trip to the fiery furnace?
Changes from the episode
All of George's narrations are taken out
The entire "Good Morning George", "Bunny Song", and "Stand" segments are changed to dialogue
The injured pea is nowhere to be found in this book
Additions to the book
It is revealed that Laura had a stomach ache after eating all the bunnies
Benny wonders why they don't have any arms after he tells Rack he can't move his arms
Community content is available under
CC-BY-SA
unless otherwise noted.