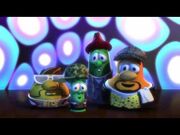 The Ultimate Silly Song Countdown 2.0 is a countdown of all of the silly songs ever made up to The Little House That Stood. This countdown is hosted by the Boyz in the Sink and is similar to the If I Sang a Silly Song countdown as well. It is a bit more modern kind of countdown too, with guest stars, techno background music, and more electronic aid.
Like the previous Ultimate Silly Song countdown, there is a song sung during the countdown, similar to Do the Moo Shoo from the first one. This song is called "Drop The Electronic Beat."
Order of Countdown
38.Astonishing Wigs
37.Best Friends Forever
36.I Love My Lips
35.Endangered Love
34.Supper Hero
33.The Pirates Who Don't Do Anything
32.Goodnight Junior
31.Lost Puppies
30.Sippy Cup
29.Dance of the Cucumber
28.Larry's High Silk Hat
27.Donuts for Benny
26.Do the Moo Shoo
25.My Baby Elf
24.Larry's Blues
23.The Hopperana
22.A Mess Down in Egypt
21.Oh Santa!
20.His Cheeseburger
19.Rock Monster
18.Sport Utility Vehicle
17.Where Have All the Staplers Gone?
16.The Yodeling Veterinarian of the Alps
15.Sneeze If You Need To
14.Song of the Cebu
13.Kilts and Stilts
12.Schoolhouse Polka
11.The Water Buffalo Song
10.Monkey
9.Belly Button
8.Gated Community
7.Lance the Turtle
6.The Hairbrush Song
5.The Biscuit of Zazzamarandabo
4.Pants
3.Bubble Rap
2.Pizza Angel
1.Happy Tooth Day
Community content is available under
CC-BY-SA
unless otherwise noted.