This article belongs to UnicornFun. Please ask him/her/them before editing the article. If you do so without asking, or if the owner(s) say(s) no, you will get a warning. If you continue, you will be blocked.

(October 3, 2015)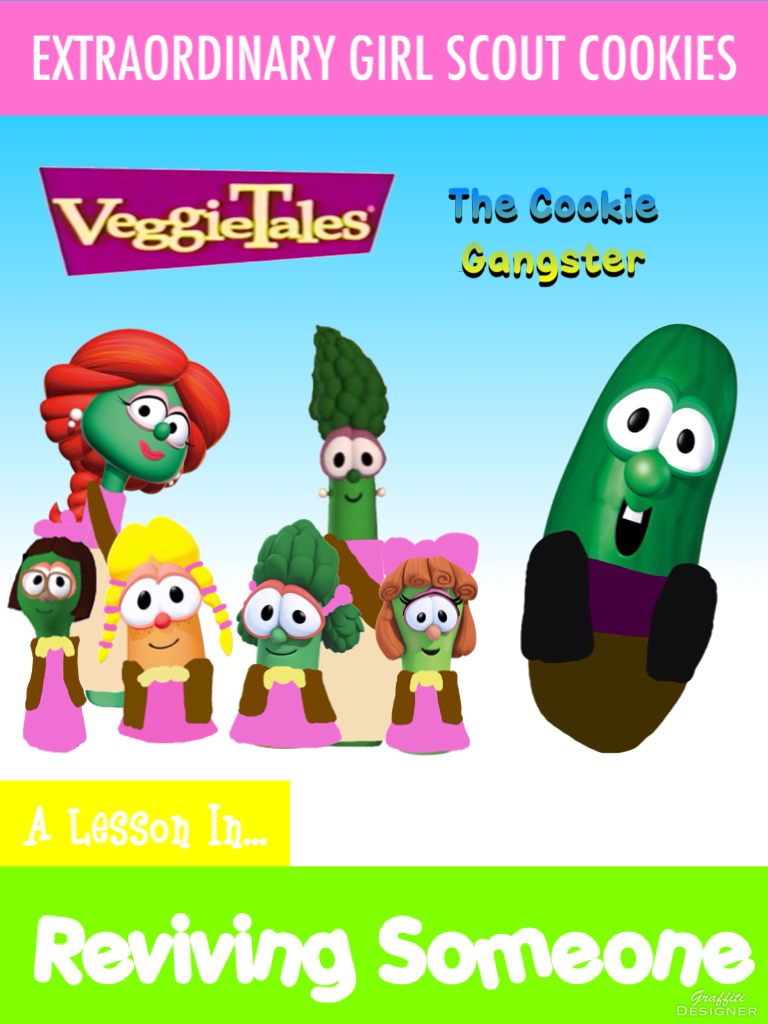 A gangster episode of VeggieTales, when the little girls (the rainbow girls) get to sell the cookies along with their moms and meet a man named Joey who is a gangster who wants to try to defeat the other little girls (the sunshine girls) at the street carnival amusement park. Larry also reveals the pet store song because every person loves to keep animals as pets.
Larry The Cucumber as Joey D'Amico, Pet Store Worker and Himself
Petunia Rhubarb as Amanda
Mom Asparagus as Johanna
Annie Scallion as Rainbow Girl Sally
Laura Carrot as Rainbow Girl Penelope (Ping)
Ermie Asparagus as Rainbow Girl Nita
Sara Crewe as Rainbow Girl Lucy
Bob The Tomato as Dave and Himself
Junior Asparagus as Rainbow Boy Jeff, Little Boy and Himself
Archibald Asparagus as Leo
Jimmy Gourd as Frankie
Jerry Gourd as Peter
Scallion #1 as Gangster Dylan
Scallion #2 as Gangster Chris
Scallion #3 as Gangster David
Dad Asparagus as Gangster AJ
Pa Grape as Gangster Joel
Rosie Grape as Sunshine Girl Natalie
Emma Stewart as Sunshine Girl Liv
Claire Asparagus as Sunshine Girl Christine
Eloise as Sunshine Girl Faith
Papaya Poppyseed Carrot as Sunshine Girl Paige
Little Sister Pea as Sunshine Girl Alyssa
Tom Grape as Sunshine Boy Brandon
Coming Soon
VeggieTales Theme Song
It's Only For Girls
Don't Touch Our Cookies
The Pet Store Song (Silly Song)
Oh No, What We Gonna Do (Gangster Version)
The Mean Girl Scout Song
It's Only For Girls Reprise
What We Have Learned
This episode was inspired by The Cookie Mobster (2014 TV Movie) and Cookie Mobster (2013 Short Film).
This is UnicornFun's 1st time to make a fanon VeggieTales Episode.
Community content is available under
CC-BY-SA
unless otherwise noted.