This article belongs to VeggieFan2000. Please ask him/her/them before editing the article. If you do so without asking, or if the owner(s) say(s) no, you will get a warning. If you continue, you will be blocked.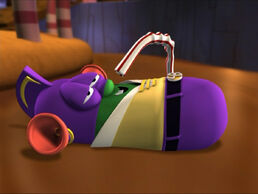 Temptation Song is a sing-along DVD, and an addition to the VeggieTales Sing-Alongs DVD collection, following A Joking Sumo and Fear Not, Daniel. It was released the same time as America Rules!.
Temptation Song from LarryBoy and the Bad Apple
113 Years Ago from An Easter Carol
A Little Bit of This from A Chipmunk Christmas
Beat Up Thingamabob! from LarryBoy and the Waffle Overdose
Checkmarks! from Celery Night Fever
Jolly Joe's from The Pirates Who Don't Do Anything: a VeggieTales Movie
We're Gonna Beat You Down! from Journal Of A Puny Vegetable
Haggis and Angus from Inspicable Me
What Can a Baby Do? from Duke and the Great Pie War
Haman's Song from Esther: the Girl Who Became Queen
Bonus: The Great I Am from Gideon: Tuba Warrior
Chapter Selection
Edit
The instrumental for Chapters 1-4 is 113 Years Ago
The instrumental for Chapters 5-8 is Jolly Joe's
The instrumental for Chapters 9-Bonus is Haman's Song
Song Preview
Edit
The music clip when the song transition scene appears is a bit from Belly of the Whale
Community content is available under
CC-BY-SA
unless otherwise noted.