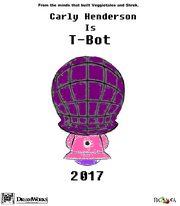 T-Bot
(also known as,
T-Bot! A VeggieTales Movie
) is a 2017 Live Action-CGI feature film based on the character from "Veggies In Space: The Fennel Frontier". MORE TO COME!
There's a new evil in Tootanny, and our only hope is... a female tour guide robot? That's right! Watch as Big Idea (Known for VeggieTales (And T-Bot, of course!)) and DreamWorks Animation (Known for Shrek) team up to bring you a movie starring everyone's favorite female tour guide robot, T-Bot! A evil mastermind kindnaps Luntar the Looter, Leader of Tootanny, and this evil mastermind plans to take over Tootanny! Only T-Bot can save Tootanny, but she'll need help from robots from time, space, and even the real world!
The film starts with the creation of T-Bot. It is revealed that T-Bot was made by Nezzer Bots Inc., along with the Ventrilomatic, and was made a tour guide. it was shipped to many places, including Tootanny. Years later, a week after the events from "Veggies in Space: The Fennel Frontier", the people of Tootanny are relieved to have been saved from the sun going supernova. Space Fleet, themselves, are taking a break from saving Tootanny, and are resting in the Tootanny hotel. and with thanks to his nephew Oliver, Luntar has learned to share. As for T-Bot, she is still tour guide of Tootanny.
One day later, in his lair, Luntar spots a shaded person with a similar shape. just when he is getting closer to him/her, the mysterious person call out for his/her minions and the minions surround Luntar and kidnap him. Meanwhile in another part of Tootanny, T-Bot is tour guiding some tourists, then notices Luntar's lair glowing. She halts the tour, and goes to the liar to investigate. More to be added!
Continuity
Edit
This takes place after "Veggies in Space: The Fennel Frontier".
MORE TO COME!
T-Bot
Mr. Lunt (Luntar the Looter)
The Ventrilomatic and Rusty
Buzz Saw Louie
MORE TO COME!
Community content is available under
CC-BY-SA
unless otherwise noted.