This article belongs to Phineasnferb. Please ask him/her/them before editing the article. If you do so without asking, or if the owner(s) say(s) no, you will get a warning. If you continue, you will be blocked.

(August 9, 2020)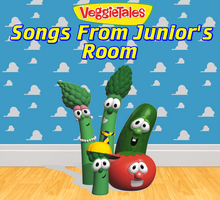 Songs From Junior's Room is a CD accompanying the DVD release of Stories From Junior's Room. It features songs from and inspired by the DVD.
Track Listing
Edit
VeggieTales Theme Song
Promised Land
The Lord Has Given
Keep Walking
The Lord Has Given (Reprise)
Promised Land (Reprise)
The Blues With Larry
We're Vikings
What's Up With Lyle?
Dear Monks
Not So Fast
Look Olaf!
Share of Friends
The Hairbrush Song
The Great "I Am"
Fanfare of Horns and Flashlights
Asteroid Cowboys
Goodnight Junior
Song of the Cebu
Larry's High Silk Hat
Lance the Turtle
Sport Utility Vehicle
I Want To Dance (Disco Version)
What We Have Learned (Bedtime Version)
Community content is available under
CC-BY-SA
unless otherwise noted.