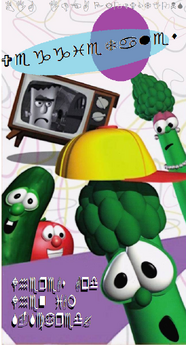 Silly Sing-Along 4: Songs from the Song-Machine is an 4th song compilation video about the machine that is made by Bob the Tomato, and him and Larry the Cucumber will watch the songs from the show VeggieTales. It's released August 24, 2015.
I Love My Lips (from Dave and the Giant Pickle)
God is Bigger Than a Boogie Man (from Where's God When I'm S-Scared?)
There Once Was a Man (from King George and the Ducky)
Good Morning George (from Rack, Shack, and Benny)
A Joking Sumo I (from Sumo of the Opera)
The Blues With Larry (from Duke and the Great Pie War)
My Day (from The Wonderful World of Auto-Tainment!)
The Yodeling Veterinarian of the Alps (from The End of Silliness?)
Do the Moo Shoo (from The Ultimate Silly Song Countdown)
I Can Be Your Friend (from Are You My Neighbor?)
Keep Walking (from Josh and the Big Wall!)
Golden Egg (from Noah's Ark)
Monkey (from The Wonderful Wizard of Ha's)
Hopperana (from Twas the Night Before Easter)
Schoolhouse Polka (from Sumo of the Opera)
TBA we need images!
Community content is available under
CC-BY-SA
unless otherwise noted.