This article belongs to VeggieFan2000. Please ask him/her/them before editing the article. If you do so without asking, or if the owner(s) say(s) no, you will get a warning. If you continue, you will be blocked.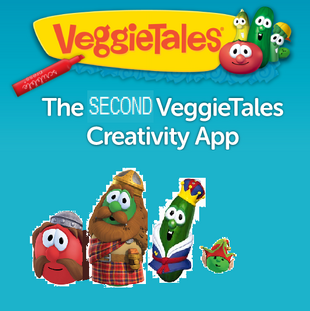 A sequel to Scribble My VeggieTales Story. This is created for the iPod, iPhone and iPad.
Scribble My VeggieTales Story 2 brings the VeggieTales cast of characters and wholesome storylines to the award-winning Scribble Press App. Scribble My VeggieTales Story 2 empowers even the youngest authors and illustrators to create mini-masterpieces with features including: Age-appropriate story-making tools Up to 8 unique story lines, stickers and backgrounds based on VeggieTales 1 included Merry Larry Coloring Book 1 included MacLarry Coloring Book 1 included Blank Book to create and record original stories, and more!
There are 8 storylines to choose from:
Sumo of the Opera (Perseverance)
Gideon: Tuba Warrior (Trusting God)
Robin Good and His Not-So Merry Men (Handling Hurt)
LarryBoy and the Rumor Weed (The Power of Words)
King George and the Ducky (Selfishness)
Esther - The Girl Who Became Queen (Courage)
MacLarry and the Stinky Cheese Battle (Getting Along with Others)
Merry Larry and the True Light of Christmas (The True Light of Christmas)
Community content is available under
CC-BY-SA
unless otherwise noted.