This article belongs to VeggieFan2000. Please ask him/her/them before editing the article. If you do so without asking, or if the owner(s) say(s) no, you will get a warning. If you continue, you will be blocked.
Precious Girl
is a sing-along DVD that follows both
My Life as a Viking
and
Cowboy Life
. It is released the same time as
I Love My Puppy
.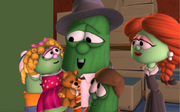 Precious Girl from "It's a Meaningful Life"
Love for Christmas from "Merry Larry and the True Light of Christmas"
Squeaky Clean from "The Crisper County Charity"
My Sweet Ride from "Where's God When I Need Him?"
Fulfilling Hopes and Dreams from "The Great Escape!"
Chog Norrius from "MacLarry and the Stinky Cheese Battle"
We're in Big Norm's Notes Trouble! from "King George: Revenge of Norm's Notes"
The Elevator Song from "Lyle the Kindly Viking 2: Lyle Meets the VeggieTones"
I'm So Boo from "Abeddy Asparagus"
Happy Tooth Day from "The Little House That Stood"
Chapter Select Music
Edit
The instrumental for Chapters 1-4 is Love for Christmas
The instrumental for Chapters 5-8 is The Elevator Song
The instrumental for Chapters 9-10 is Happy Tooth Day
Transition
Edit
The transition that plays in between songs is a bit from Spanish Gold
Community content is available under
CC-BY-SA
unless otherwise noted.