This article belongs to VeggieFan2000. Please ask him/her/them before editing the article. If you do so without asking, or if the owner(s) say(s) no, you will get a warning. If you continue, you will be blocked.
Oh Lone Stranger
is a sing-along DVD, and an addition to the Sing-Alongs series. This was released the same time as
Rumor Weed
.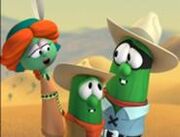 "Oh Lone Stranger" from "Moe and the Big Exit"
"No Defense!" from "Merry Larry and the Unexpected Twist of the Spring Valley Mall!"
"A Message from the Lord" from "Jonah: a VeggieTales Movie"
"This is Rather Eerie" from "A Chipmunk Christmas"
"Look, Olaf!" from "Lyle the Kindly Viking"
"Buzz Lightyear Theme Song" from "Toy Story"
"Lance the Turtle" from "Gideon: Tuba Warrior"
"Woody's Round-Up" from "Toy Story 2"
"We're Barber-Barians" from "MacLarry and the Stinky Cheese Battle"
"The Battle is Not Ours" from "Esther: the Girl Who Became Queen"
Bonus: "The Selfish Song" from "King George and the Ducky"
Chapter Selections
Edit
The instrumental for Chapters 1-4 is No Defense!
The instrumental for Chapters 5-8 is Buzz Lightyear Theme Song
The instrumental for Chapters 9-Bonus is We're Barber-barians
Song Preview
Edit
The transition that plays inbetween songs is a bit from Solid Stuff.
Community content is available under
CC-BY-SA
unless otherwise noted.