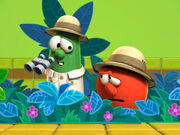 Monkey is a new sing-along DVD and is an addition to the Sing-Alongs DVD collection, following Song of the Cebú and Sport Utility Vehicle. This was released at the same time as I'm So Blue.
Songs
Monkey from The Wonderful Wizard of Ha's
Kilts and Stilts from MacLarry and the Stinky Cheese Battle
Ease on Down the Road from Beware the Living Fried Chicken Zombies!
Can't Believe It's Christmas from The Toy That Saved Christmas
The New and Improved Bunny Song from Rack, Shack, and Benny
Goodnight Junior from It's a Meaningful Life
King Darius Suite from Where's God When I'm S-Scared?
Beat Up Thingamabob! from LarryBoy and the Waffle Overdose
Erie Canal from The Wonderful World of Autotainment
Call on Us from Sheerluck Holmes and the Golden Ruler
Bonus. Dream of a Dozen Cactus from The Ballad of Little Joe
Chapter Select Music
Chapters 1-4 is an instrumental of Monkey
Chapters 5-8 is an instrumental of Goodnight Junior
Chapters 9-Bonus is an instrumental of Erie Canal
Transition
The music clip when the song transition scene appears is a bit from Promised Land
Community content is available under
CC-BY-SA
unless otherwise noted.