This article belongs to Phineasnferb. Please ask him/her/them before editing the article. If you do so without asking, or if the owner(s) say(s) no, you will get a warning. If you continue, you will be blocked.

(July 23, 2013)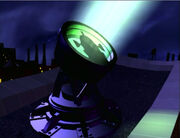 Lies Are a Monstrous Thing is a chapter book adaption of "LarryBoy and the Fib From Outer Space". It is 96 pages long with 8 pages of full color pictures from the episode and is published by Scholastic.
LarryBoy's previous adventures are mentioned: the Rumor Weed, the Bad Apple, his two adventures with the league, and the waffle overdose
Instead of an apple chopper, Junior says Laura broke the plate with a buzz saw
Larry and Alfred play more turns of Candy Land
LarryBoy makes out a full conversation with Junior when he sees him in town
Junior convinces the Fib to tell him a bedtime story
Mom Asparagus and Scooter try to recover Dad Asparagus after he faints
LarryBoy buys chocolate while he's out searching for the Fib
In addition to the kid with green hair and dog that can whistle, he mentions he saw a walking soda bottle
Community content is available under
CC-BY-SA
unless otherwise noted.