This article belongs to Phineasnferb. Please ask him/her/them before editing the article. If you do so without asking, or if the owner(s) say(s) no, you will get a warning. If you continue, you will be blocked.

(December 12, 2019)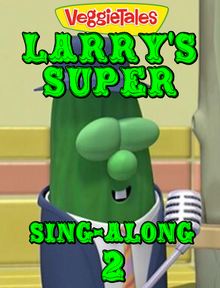 Larry's Super Sing-Along 2 is a sing-along video hosted by Larry himself. Unlike the first one, there is no audience set-up. However, Larry does interact with Kurt Heinecke about the different songs within the video.
God Is Bigger
You and You Alone
Larry's High Silk Hat
LarryBoy Theme Song
Solid Stuff
Modern Major General
Love My Lips
Good Morning George
The Great I Am
I'm So Blue
Trust In God
My Golden Egg
Show You Love
Endangered Love
The Yodeling Veterinarian of the Alps
Larry the Cucumber
Kurt Heinecke
Bob the Tomato
Junior Asparagus
Frankencelery
Monsters
Scallion #1
Scallion #2
Charlie Pincher
Grandma Gourd
Archibald Asparagus
Art Bigotti
Mr. Nezzer
Jean Claude
Phillipe
Miss Achmetha
Apollo Gourd
Asparagus Singers
The Fib
Jimmy Gourd
Jerry Gourd
Lenny Carrot
Percy Pea
Laura Carrot
Mr. Lunt
Grandpa George
Pa Grape
Madame Blueberry
Petunia Rhubarb
Mirabelle
Scallion #3
Community content is available under
CC-BY-SA
unless otherwise noted.