This article belongs to Phineasnferb. Please ask him/her/them before editing the article. If you do so without asking, or if the owner(s) say(s) no, you will get a warning. If you continue, you will be blocked.

(July 23, 2013)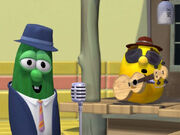 Another installment in the VeggieTales Sing-Alongs series. It was released the same time as Endangered Love.
Songs Included
Larry's Blues from "Duke and the Great Pie War"
Boids from "An Easter Carol"
Can't Believe It's Christmas from "The Toy That Saved Christmas"
South Dakota from "Sherlock Holmes and the Golden Ruler"
Busy, Busy from "Are You My Neighbor?"
Stuck In a Bear Trap from "VeggieTales Birthday Clip-O-Rama!"
Scarfs from "Coast to Coast: The Story of the Cucumber of Florida"
The Rumor Weed Song from "LarryBoy and the Rumor Weed"
Good Night Junior from "It's a Meaningful Life"
The League of Incredible Vegetables from "The League of Incredible Vegetables"
Chapter Selection
The instrumental for Chapters 1-4 is Larry's Blues
The instrumental for Chapters 5-8 is The Rumor Weed Song
The instrumental for Chapters 9-10 is The League of Incredible Vegetables
Transition
The transition between songs plays a bit from BFF (Best Friends Forever).
Community content is available under
CC-BY-SA
unless otherwise noted.