This article belongs to BigRedMonster86. Please ask him/her/them before editing the article. If you do so without asking, or if the owner(s) say(s) no, you will get a warning. If you continue, you will be blocked.

(February 22, 2019)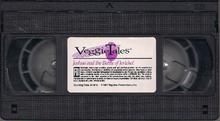 The prototype 1997 VHS of Josh and the Big Wall! was originally going to be released on October 2, 1997. Like the first 500 copies of Where's God When I'm S-Scared?, it does contain several differences from the final print of the episode, but due to a rendering error, they rescheduled this episode's release date back to December 5th, 1997 by Everland Entertainment and Word Entertainment on VHS.
Differences
The original title is "Joshua and the Battle of Jericho"
A little bumper plays, stating that more previews will play after the show.
Promised Land has more instruments playing.
Larry has his tooth in the Silly Song title card.
The title card fades out instead of abruptly cutting to black.
A demo version of The Lord Has Given (Joshua version) plays.
A rendering error happens during the second time the Israelites march around Jericho, which would later be referenced on the 2002 VeggieTales Classics rerelease.
The What Have We Learned Song plays earlier, making Bob's abrupt expression change make more sense.
The Promised Land instrumental plays in the credits.
A prototype trailer for Madame Blueberry and a "VeggieTales VHS" trailer play after the show.
Video
Community content is available under
CC-BY-SA
unless otherwise noted.