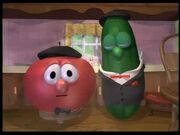 I'm So Blue is a new sing-along DVD and is an addition to the Sing-Alongs DVD collection, following Song of the Cebú and Sport Utility Vehicle. This DVD was released at the same time as Monkey.
Songs
I'm So Blue from Madame Blueberry
Bubble Rap from Robin Good and his Not-So-Merry Men
Share of Friends from Lyle the Kindly Viking
More Beautiful from Sweetpea Beauty
Dance of the Cucumber from Rack, Shack, and Benny
The 8 Polish Foods of Christmas from The Little Drummer Boy
You Know Enough from Pistachio
Some Veggies Went to Sea from God Wants Me to Forgive Them?!?
The Boy That We Call Moe from Moe and the Big Exit
110 Percent from It's a Meaningful Life
Bonus. Our First Big Break from The Star of Christmas
Chapter Select Music
Chapters 1-4 is an instrumental of I'm So Blue
Chapters 5-8 is an instrumental of You Know Enough
Chapters 9-Bonus is an instrumental of 110 Percent
Transition
The music clip when the song transition scene appears is a bit from Promised Land
Community content is available under
CC-BY-SA
unless otherwise noted.