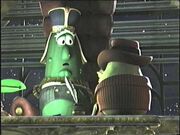 Haman's Song is a new sing-along DVD and is an addition to the Sing-Alongs DVD collection, following Larry's High Silk Hat and 110 Percent. This was released at the same time as Bubble Rap
Songs
Haman's Song from Esther: the Girl Who Became Queen
A Little More of This from Lord of the Beans
What Can a Baby Do? from Duke and the Great Pie War
The Hairbrush Song from Are You My Neighbor?
The Great I Am from Gideon: Tuba Warrior
His Cheeseburger from Madame Blueberry
You Are My Sunshine from The Wonderful World of Autotainment
I Saw It With My Own Eye from Lunty and the Fight For the Last Taco
Lend a Little Hand from The Little House That Stood
The Lord Has Given from Josh and the Big Wall!
Bonus. It's Life's Story from Coast to Coast: The Story of the Cucumber of Florida
Chapter Select Music
Chapters 1-4 is an instrumental of Haman's Song
Chapters 5-8 is an instrumental of His Cheeseburger
Chapters 9-Bonus is an instrumental of Lend a Little Hand
Transition
The music clip when the song transition scene appears is a bit from The Audition Song
Community content is available under
CC-BY-SA
unless otherwise noted.