This article belongs to VeggieFan2000. Please ask him/her/them before editing the article. If you do so without asking, or if the owner(s) say(s) no, you will get a warning. If you continue, you will be blocked.
God is Bigger
is a sing-along DVD that follows both
We're Immortals
and
The Mayor Wouldn't Listen
. It is released the same time as
Poor Doggy
.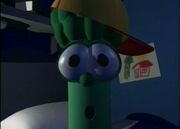 God is Bigger from Where's God When I'm S-Scared?
Samurai of Japan from Samurai of the Opera
The Selfishness Song from King George and the Ducky
The Thankfulness Song from Madame Blueberry
Merry Larry's Dream from Merry Larry and the Unexpected Twist of the Spring Valley Mall!
Look, Olaf! from Lyle the Kindly Viking
I'm Blue from The Ballad of Little Joe
The Biscuit of Zazzamarandabo from Tomato Sawyer and Huckleberry Larry's Big River Rescue
Keep Walking from Josh and the Big Wall!
A Little More of This from Lord of the Beans
Chapter Select Music
Edit
Chapters 1-4 is an instrumental of God is Bigger
Chapters 5-8 is an instrumental of Look, Olaf!
Chapters 9-10 is an instrumental of Keep Walking
Transition
Edit
The instrumental when the song title is shown is a bit from It Cannot Be.
Community content is available under
CC-BY-SA
unless otherwise noted.