This article belongs to VeggieFan2000. Please ask him/her/them before editing the article. If you do so without asking, or if the owner(s) say(s) no, you will get a warning. If you continue, you will be blocked.
God's Little Princess
is a sing-along that follows both
Gossiping is No Good!
and
The Yodeling Cowgirl of the West
. It is released the same time as
Things Will Get Better
.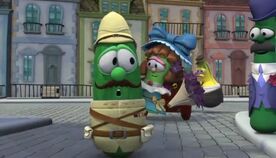 God's Little Princess from The Penniless Princess
The Hairbrush Song from Are You My Neighbor?
Bubble Rap from Robin Good and His Not-So Merry Men/If I Sang a Silly Song
Rock On, LarryBoy! from LarryBoy and the Bad Apple
Good Morning, George from Rack, Shack and Benny
Yo Ho Hero from The Pirates Who Don't Do Anything: a VeggieTales Movie
Larry's High Silk Hat from Lyle the Kindly Viking
Big Things Too from Dave and the Giant Pickle
I Couldn't Sail No Longer from Toy Story
What Would Philip Fleagle Think? from A Chipmunk Christmas
Monkey from The Wonderful Wizard of Ha's
Chapter Select Music
Edit
The instrumental for Chapters 1-4 is Bubble Rap
The instrumental for Chapters 5-8 is Yo Ho Hero
The instrumental for Chapters 9-11 is Monkey
Transition
Edit
The transition that plays in between songs is a bit from The Lord Has Given
Community content is available under
CC-BY-SA
unless otherwise noted.