This article belongs to VeggieFan2000. Please ask him/her/them before editing the article. If you do so without asking, or if the owner(s) say(s) no, you will get a warning. If you continue, you will be blocked.
Gated Community
is an addition to the Sing-Along DVDs, following 
Woody's Song
 and 
Big Things, Too
. It is released the same time as
A Little Bit of This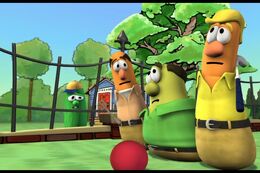 Songs Included
Edit
Gated Community from "Sheerluck Holmes and the Golden Ruler"
Do the Moo Shoo from "The Ultimate Silly Song Countdown"
Larry's Blues (from Duke and the Great Pie War)
Rock On, LarryBoy (from LarryBoy and the Bad Apple)
Oh Lone Stranger from "Moe and the Big Exit"
We're Vikings from "Lyle the Kindly Viking"
Salesmunz Rap (from Madame Blueberry)
God is Bigger from "Where's God When I'm S-Scared?"
What Can a Baby Do? from "Duke and the Great Pie War"
Buzz Lightyear Theme Song from "Toy Story"
Chapter Select Music
Edit
Chapters 1-4 is an instrumental of Gated Community
Chapters 5-8 is an instrumental of Salesmunz Rap
Chapters 9-10 is an instrumental of What Can a Baby Do?
Transition
Edit
The music that plays in between songs is a bit from You Know Enough
Community content is available under
CC-BY-SA
unless otherwise noted.