This article belongs to Phineasnferb. Please ask him/her/them before editing the article. If you do so without asking, or if the owner(s) say(s) no, you will get a warning. If you continue, you will be blocked.

(July 26, 2019)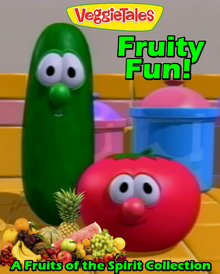 Fruity Fun! is a compilation release containing stories relating to all 9 Fruits of the Spirit. It features Veggie kid interviews.
Stories Included
Edit
Silly Songs Included
Edit
Ballad of the Pie War
Dance of the Cucumber
Can't Believe It's Christmas
Grumpy Kids
The 8 Polish Foods of Christmas
We're Barber-barians
Chog Norius
The Worst Barberbarian
Oh MacLarry
Belly Button
We Love It In Ur!
Perfect Puppy
Busy, Busy
Love Your Neighbor
The Biscuit of Zazzamarandabo
The Rumor Weed Song
Bubble Rap
The Great I Am
Fanfare of Horns and Flashlights
The Yodeling Veterinarian of the Alps
Show You Love
The Person God Wants Me To Be
Now That You're Gone
If This Were My Home
La, La, La
Love Is The Song
5 Servings of You
Larry's High Silk Hat
I'm So Blue
Stuff-Mart Suite
Salesmunz Rap
The Thankfulness Song
Pants
Community content is available under
CC-BY-SA
unless otherwise noted.