This article belongs to VeggieFan2000. Please ask him/her/them before editing the article. If you do so without asking, or if the owner(s) say(s) no, you will get a warning. If you continue, you will be blocked.
Freak Flag
is a sing-along DVD that follows both
What Would Philip Fleagle Think?
and
Strange Things are Coming My Way
. It is released the same time as
What Should I Buy?
.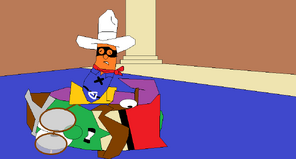 "Freak Flag" from "MacLarry and the Barber-Barians in... Pompous Maximus Strikes Back!"
"You Know Enough" from "Pistachio - The Little Boy That Woodn't"
"We Belong Together" from "Toy Story 3"
"Action Scene!" from "Sweetpea Beauty"
"Down These Tracks" from "It's a Meaningful Life"
"Don't Cry for Me, Easter Bunny" from "Twas the Night Before Easter"
"Alone" from "Princess and the Popstar"
"A Treasure to Behold" from "The Little Drummer Boy"
"Prince of Ham" from "Robin Good and His Not-So Merry Men"
"BFF (Best Friends Forever)" from "The Penniless Princess"
Bonus: "Supper Hero" from "The League of Incredible Vegetables"
Chapter Selections
Edit
Chapters 1-4 is an instrumental of You and You Alone
Chapters 5-8 is an instrumental of A Treasure to Behold
Chapters 9-Bonus is an instrumental of Supper Hero
Song Preview
Edit
The transition that plays in between songs is a bit from It's Laura's Fault
Community content is available under
CC-BY-SA
unless otherwise noted.