This article belongs to VeggieFan2000. Please ask him/her/them before editing the article. If you do so without asking, or if the owner(s) say(s) no, you will get a warning. If you continue, you will be blocked.
Forget About the Rain!
is a sing-along DVD that follows
Because I Listened
and
Take a Look at the Beauty
. It is released the same time as
Happy Ki-Yi Birthday
.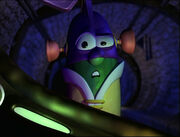 "Forget about the Rain" from "LarryBoy and the Raiders of the Rumor Weed!"
"Message from the Lord" from "Jonah: A VeggieTales Movie"
"Look, Olaf!" from "Lyle the Kindly Viking"
"Unwritten" from "Merry Larry and the Unexpected Twist of the Spring Valley Mall!"
"King Darius Suite" from "Where's God When I'm S-Scared?"
"This is Rather Eerie" from "A Chipmunk Christmas"
"Larry's Blues" from "Duke and the Great Pie War"
"The Bunny Song" from "Rack, Shack and Benny"
"What Can a Baby Do?" from "Duke and the Great Pie War"
"Promised Land" from "Josh and the Big Wall!"
Chapter Selection
Edit
Chapters 1-4 is an instrumental of Unwritten
Chapters 5-8 is an instrumental of The Bunny Song
Chapters 9-10 is an instrumental of Promised Land
Song Preview
Edit
The song that plays in between songs is Haman's Song
Community content is available under
CC-BY-SA
unless otherwise noted.