This article belongs to VeggieFan2000. Please ask him/her/them before editing the article. If you do so without asking, or if the owner(s) say(s) no, you will get a warning. If you continue, you will be blocked.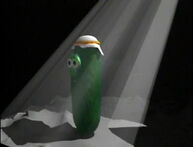 Fear Not, Daniel
is a sing-along DVD, and an addition to the Sing-Along DVD series, following
You Know Enough
and
We are the Grapes of Wrath
. It is released the same time as
A Joking Sumo
.
Songs
"Fear Not, Daniel" from "Where's God When I'm S-Scared?"
"I'm Madeline" from "VeggieTales Madeline (Old Version)"
"Right Where I Belong" from "Princess and the Popstar"
"Beat Up Thingamabob!" from "LarryBoy and the Waffle Overdose"
"Trust in God" from "The League of Incredible Vegetables"
"Another Easter Day" from "An Easter Carol"
"A Rockstar's Superstardom" from "Buzz Lightyear of Star Command: The Adventure Begins"
"Why Me?" from "Tomato Sawyer and Huckleberry Larry's Garden of Hopes"
"Good for the Grabbing" from "Veggies in Space: The Fennel Frontier"
"Oh Little Joe Part 2" from "The Ballad of Little Joe"
"We're Gonna Beat You Down!" from "Journal Of A Puny Vegetable"
"It's Life's Story" from "Coast to Coast: The Story of the Cucumber of Florida"
Chapter Selections
The instrumental for Scenes 1-4 is Beat Up Thingamabob!
The instrumental for Scenes 5-8 is Why Me?
The instrumental for Scenes 9-12 is It's Life's Story
Transition
The music clip when the song transition scene appears is a bit from Jolly Joe's
Community content is available under
CC-BY-SA
unless otherwise noted.