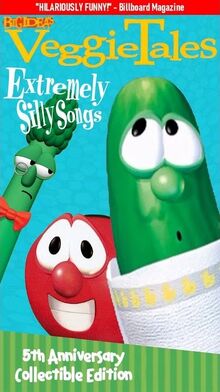 Extremely Silly Songs! (known as Extremely Silly Songs! 5th Anniversary Collectible Edition) is a VHS exclusive for Christian bookstores that was made for Big Idea's anniversary. It was released on VHS in August 25, 1998.
Silly Songs
The Water Buffalo Song (from Where's God When I'm S-Scared?)
The Hairbrush Song (from Are You My Neighbor?)
Dance of the Cucumber (from Rack, Shack, and Benny)
Love My Lips (from Dave and the Giant Pickle)
Oh, Santa! (from The Toy That Saved Christmas)
The Pirates Who Don't Do Anything (from A Very Silly Sing-Along)
The Song of the Cebú (from Josh and the Big Wall!)
His Cheeseburger (from Madame Blueberry)
Features 
Tracklist
Opening
What's the Big Idea? Promo
1998 Stay Tuned Bumper
1997-2000 FBI Warning
Word Inc./Everland Entertainment logos
1997-2005 Big Idea logo (Happy 5th Anniversary! Byline)
Closing
Madame Blueberry Trailer
The End of Silliness? Trailer
Larry-Boy and the Rumor Weed Rare Teaser
Fun Facts 
It came in the "What's in the Bible?" newsletter.
This is the only VHS release to feature the End of Silliness? trailer.
This is the only VHS release to feature the rare teaser for Larry-Boy and the Rumor Weed, but later used on the 2004 DVD as an Easter Egg.
This is the only rare VHS release to feature the Word Inc. and Everland Entertainment logos (which appeared in Bible Action Songs videos).
Community content is available under
CC-BY-SA
unless otherwise noted.