This article belongs to Phineasnferb. Please ask him/her/them before editing the article. If you do so without asking, or if the owner(s) say(s) no, you will get a warning. If you continue, you will be blocked.

(November 21, 2015)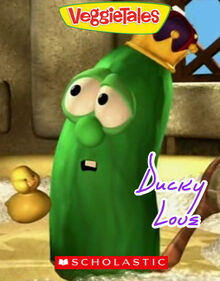 Ducky Love is the tenth VeggieTales chapter book. It is published by Scholastic. It has 96 pages with 8 pages of full color inserts from the movie. It is based off of "King George and the Ducky."
Book Description
When the kingdom is at war, a pie war that is, what does the king do? Why, he spends time in the bath with his favorite rubber duck. But when King George spots a duck better than his, he wants it badly. Will King George learn to be grateful for the duck he already has?
Changes from the episode
All singing is changed to dialogue
Additions to the book
A whole scene about the pie war is added to lengthen the story a little
King George does careful searching of Thomas's house
Community content is available under
CC-BY-SA
unless otherwise noted.