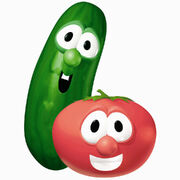 Death is a Serious Thing is an episode where Bob and Larry tackle their biggest question ever asked. Bob and Larry take on the situation of what to do when a loved one has passed away. So, the lesson is handling hurt, again, as well as a lesson in remembrance.
Plot
Bob and Larry are introducing themselves as they would on a normal show. Bob says they got a letter from a girl named Mackenzie Miller of Las Vegas, Nevada asking if they can make a 3rd Little Joe episode. Bob was confused. Larry was happy. He wanted to do another western. Just then, QWERTY said they had a letter from Olivia Smit of New York, New York again. Larry said not only a 3rd Little Joe, but a 3rd letter from Olivia. Olivia was very sad in the letter. Bob felt hurt and asked what was wrong. Olivia said that her mom recently passed away and wanted to know what to do. QWERTY was shedding virtual tears. Bob and Larry both knew this would be their hardest show yet.
Bob decided not to do a western, but explain what to do right there and they would be the show. Larry was sad about no western, but he was glad to help out Olivia for a 3rd time. Now, I, CoolHungryYoshi, won't get into the details of what they talked about for emotional sake.
After their talk, Bob said it was time for them to talk about what they learned. Bob was so happy to help Olivia he didn't even care about the What We Have Learned song that day. They got their verse, re-explained the lesson, and said their good byes. But Larry wondered where Olivia was. Olivia was standing by them on the countertop and gave them a huge hug. Larry was still puzzled about how humans can fit on the countertop, but he let it slide.
Songs
Running Gags
Silly Song
None
What We Have Learned song
Original
Kid They Got a Letter From
Olivia, for a 3rd time
Trivia
The third time a question is asked by Olivia, who Larry says must be a pretty popular girl. She was first seen in "That's What Friends Do" and "Sheltered and Loved"
This episode does not have the theme song before the actual show begins, just like "LarryBoy and the Rumor Weed", "The Star of Christmas", etc.
A 3rd western is wanted, just like the episodes "The Ballad of Little Joe" and "Moe and the Big Exit"
Larry still wonders about humans fitting on the countertop, just like in "3-2-1 Veggies: A Collection of Veggie and Penguin Stories"
Cast
Bob the Tomato
Larry the Cucumber
QWERTY
Olivia
Junior Asparagus
Laura Carrot
Joe
Annie Onion
Mr. Nezzer
Scooter Carrot
Community content is available under
CC-BY-SA
unless otherwise noted.