This article belongs to VeggieFan2000. Please ask him/her/them before editing the article. If you do so without asking, or if the owner(s) say(s) no, you will get a warning. If you continue, you will be blocked.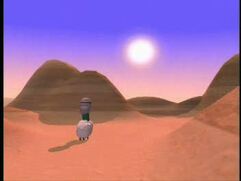 David and the Lion's Den: The Soundtrack
is a CD that features songs and score from
David and the Lions' Den
.
Veggie Tales Theme Song (Old Version and Instrumental)
King Darius Suite
Oh No!
We've Got Some News
The Water Buffalo Song (Silly Song)
Hope's Song
Beautiful You
What We Have Learned (8 bit)
God is Bigger (Instrumental)
Babylon Intro
Island
Cinderella's Chores
Invitation to the ball
Fix a Dress/Giving Up Her Hopes
Cinderella's Fairy Godmother
To The Ball
The Girl Who Fits The Glass Flipper
Israelites Congratulate
Community content is available under
CC-BY-SA
unless otherwise noted.