This article belongs to VeggieFan2000. Please ask him/her/them before editing the article. If you do so without asking, or if the owner(s) say(s) no, you will get a warning. If you continue, you will be blocked.
Dance of the Luau
is a sing-along DVD that follows both
Play Ball!
and
The Old Cafe
. It is released the same time as
Best Friends Forever On a Date with Permission
.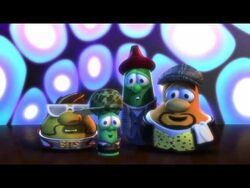 Dance of the Luau from Trouble from Bedtime Stories
Oh Little Joe from The Ballad of Little Joe
Schoolhouse Polka from Sumo of the Opera
The Elevator Song from Lyle the Kindly Viking 2: Lyle Meets the VeggieTones
Asteroid Cowboys from Veggies in Space: The Fennel Frontier
Fulfilling Hopes and Dreams from The Great Escape!
Love My Lips from Dave and the Giant Pickle
Birds and the Bees from Moe and the Big Exit
I'm So Blue from Madame Blueberry
I Love My Duck from King George and the Ducky
Bonus: Oh No! What We Gonna Do? from Where's God When I'm S-Scared?
Scene Selection
Edit
Chapters 1-4 is an instrumental of Schoolhouse Polka
Chapters 5-8 is an instrumental of Fulfilling Hopes and Dreams
Chapters 9-Bonus is an instrumental of Oh No! What We Gonna Do?
Song Preview
Edit
The transition that plays in between songs is Welcome You Aboard
Community content is available under
CC-BY-SA
unless otherwise noted.