This article belongs to Phineasnferb. Please ask him/her/them before editing the article. If you do so without asking, or if the owner(s) say(s) no, you will get a warning. If you continue, you will be blocked.

(October 15, 2015)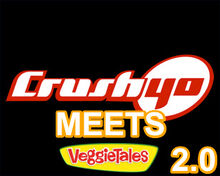 The sequel to "Crush 40 Meets VeggieTales." Crush 40 remixes 20 more VeggieTales songs, giving them a new rock feeling, and a feeling as if they were in a Sonic the Hedgehog game.
Songs
Dance of the Cucumber (from Rack, Shack, and Benny)
Larry Learns to Listen (from Larry Learns to Listen)
God Is Bigger (from Where's God When I'm S-Scared?)
Sippy Cup (from Minnesota Cuke and the Search For Noah's Umbrella)
I Want to Dance (from A Snoodle's Tale)
The Grapes of Wrath (from God Wants Me to Forgive Them?)
Share of Friends (from Lyle the Kindly Viking)
What Can A Baby Do? (from Duke and the Great Pie War)
Happy River (from Tomato Sawyer and Huckleberry Larry's Big River Rescue)
Radio Sweetheart (from The Princess and the Popstar)
Solid Stuff (from The Little House That Stood)
Welcome You Aboard (from Noah's Ark)
I Can Be Your Friend (from Are You My Neighbor?)
The Rumor Weed Song (from LarryBoy and the Rumor Weed)
Oh Lone Stranger (from Moe and the Big Exit)
Jonah Was a Prophet (from Jonah: A VeggieTales Movie)
Enough to Share (from Veggies In Space: The Fennel Frontier)
The Selfishness Song (from King George and the Ducky)
Trust In God (from The League of Incredible Vegetables)
Show You Love (from Beauty and the Beet)
Community content is available under
CC-BY-SA
unless otherwise noted.