This article belongs to VeggieFan2000. Please ask him/her/them before editing the article. If you do so without asking, or if the owner(s) say(s) no, you will get a warning. If you continue, you will be blocked.
Cowboy Life
is a sing-along DVD that follows both
Better than Friends
and
Middle Schoolhouse Polka
. It is released the same time as
My Life as a Viking
.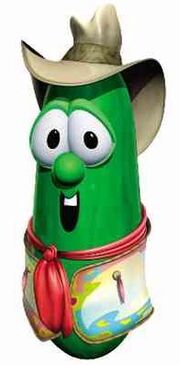 "Cowboy Life" from "The Ballad of Benjamin"
"What Would Philip Fleagle Think?" from "A Chipmunk Christmas"
"Listen" from "Larry Learns to Listen"
"Ballad of the Pie War" from "Duke and the Great Pie War"
"The Yodeling Veterinarian of the Alps" from "The End of Silliness?"
"Fit for a Queen" from "Sweetpea Beauty"
"I'm So Blue" from "Madame Blueberry"
"Jonah Was a Prophet" from "Jonah: A VeggieTales Movie"
"He's Accepted the Challenge" from "Sumo of the Opera"
"You Are My Sunshine" from "The Wonderful World of Auto-Tainment!"/"Bob and Larry's Backyard Party"
Chapter Selection
Edit
Chapters 1-4 is an instrumental of What Would Philip Fleagle Think?
Chapters 5-8 is an instrumental of Jonah Was a Prophet
Chapters 9-10 is an instrumental of He's Accepted the Challenge
Song Preview
Edit
The music clip when the song transition scene appears is a bit from The Great I Am.
Community content is available under
CC-BY-SA
unless otherwise noted.