This article belongs to VeggieFan2000. Please ask him/her/them before editing the article. If you do so without asking, or if the owner(s) say(s) no, you will get a warning. If you continue, you will be blocked.
Can't Believe it's Christmas
is a sing-along DVD that follows both
I Love My Puppy
and
Precious Girl
. It is released the same time as
Happy Birthday VeggieTales!
.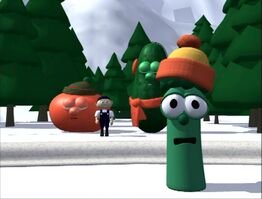 "Can't Believe it's Christmas" from "The Toy that Saved Christmas"
"It Cannot Be" from "Jonah: A VeggieTales Movie"
"I've Got Plans" from "Noah's Ark"
"Larry's Blues" from "Duke and the Great Pie War"
"The Mayor's Dream" from "The Ballad of Little Joe"
"Modern Major General" from "The Wonderful World of Auto-Tainment!"/"Pirates' Boatload of Fun"
"Oh MacLarry" from "MacLarry and the Stinky Cheese Battle"
"Wicker's Song" from "Minnesota Cuke and the Search for Noah's Umbrella"
"The Rumor Weed Song" from "LarryBoy and the Rumor Weed"
"No Defense!" from "Merry Larry and the Unexpected Twist of the Spring Valley Mall!"
Chapter Select Music
Edit
Chapters 1-4 is an instrumental of Can't Believe it's Christmas
Chapters 5-8 is an instrumental of Modern Major General
Chapters 9-10 is an instrumental of No Defense!
Song Preview
Edit
The transition that plays in between songs is a bit from the LarryBoy Theme Song
Community content is available under
CC-BY-SA
unless otherwise noted.