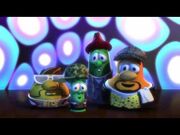 Bubble Rap is a new sing-along DVD and is an addition to the Sing-Alongs DVD collection, following Larry's High Silk Hat and 110 Percent. This was released at the same time as Haman's Song.
Songs
Bubble Rap from Robin Good and his Not-So-Merry Men
Happy River from Tomato Sawyer and Huckleberry Larry's Big River Rescue
The Battle Prelude from Esther: the Girl Who Became Queen
Keep Walking from Josh and the Big Wall!
We Are the Grapes of Wrath from God Wants Me to Forgive Them?!?
I Love My Lips from Dave and the Giant Pickle
I Want to Dance from A Snoodle's Tale
BFF (Best Friends Forever) from The Penniless Princess
Precious Girl from It's a Meaningful Life
Not So Fast from Lyle the Kindly Viking
Bonus. God is Bigger from Where's God When I'm S-Scared?
Chapter Select Music
Chapters 1-4 is an instrumental of Bubble Rap
Chapters 5-8 is an instrumental of I Want to Dance
Chapters 9-Bonus is an instrumental of Not So Fast
Transition
The music clip when the song transition scene appears is a bit from The Audition Song
Community content is available under
CC-BY-SA
unless otherwise noted.