This article belongs to Phieasnferb. Please ask him/her/them before editing the article. If you do so without asking, or if the owner(s) say(s) no, you will get a warning. If you continue, you will be blocked.

(October 11, 2015)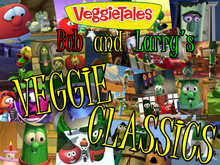 A collection of classic VeggieTales stories chosen by Bob and Larry themselves! Includes 20 classic VeggieTales episodes.
Episodes
Merry Larry and the True Light of Christmas
Lyle the Kindly Viking
Abe and the Amazing Promise
Tales From the Crisper
LarryBoy and the Rumor Weed
The Gourds Must Be Crazy
Pistachio
Madame Blueberry
The Story of George Mueller
Beauty and the Beet
LarryBoy and the Fib From Outer Space
The Asparagus of La Mancha
The Wonderful Wizard of Ha's
Veggies In Space: The Fennel Frontier
Rack, Shack, and Benny
Robin Good and His Not So Merry Men
The Ballad of Little Joe
The Toy That Saved Christmas
Josh and the Big Wall
Going Up
Silly Songs
Wrapped Myself Up For Christmas
Larry's High Silk Hat
Sneeze If You Need To
The Water Buffalo Song
The Hairbrush Song
Where Have All the Staplers Gone?
His Cheeseburger
Lance the Turtle
Macaroni and Cheese
Gated Community
Monkey
Asteroid Cowboys
The Dance of the Cucumber
Bubble Rap
Belly Button
Oh Santa
Song of the Cebu
Schoolhouse Polka
Community content is available under
CC-BY-SA
unless otherwise noted.