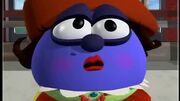 Blue Berries with Happy Hearts is the sixth VeggieTales chapter book. It is 96 pages long with black and white pictures throughout the book. It was published by The Blue Sky Press and adapts "Madame Blueberry."
Changes from the Episode
Madame Blueberry wants coffee from Larry instead of tea.
The Salesmen don't rap about the things at the Stuff Mart, they just let Madame look through the catalog and point out things occasionally.
Annie has a piece of strawberry shortcake instead of pie.
Junior gets a kite instead of a ball.
None of the Thankfulness Songs are sung. They just speak about having a happy heart.
Additions to the Book
Madame wants a new purse just like her relative Madame Angeline.
In addition to seeing Annie and Junior, when she is at the air compressor isle she overhears a conversation going on between Laura Carrot and her mom telling her that she has a happy heart knowing they have a new cousin.
Because Madame hair turns blonde at one point, they add in a part of the Stuff Mart having a hair salon Madame wants to go to to get her hair done.
After Madame and her friends gather for the picnic, Bob and Larry help Madame find a new house to stay in.
Community content is available under
CC-BY-SA
unless otherwise noted.