This article belongs to VeggieFan2000. Please ask him/her/them before editing the article. If you do so without asking, or if the owner(s) say(s) no, you will get a warning. If you continue, you will be blocked.
Bill Tracy
is a great lesson in having respect.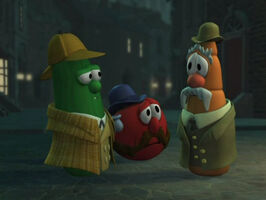 The Countertop
Edit
In an attempt to bring the highest level of class and sophistication to VeggieTales, Archibald Asparagus requests and receives permission to run the show. The countertop is then modified with a faux fireplace and wing chair (a la Masterpiece Theatre) and Archibald introduces the first segment.
The Tempo
Edit
Back on the Countertop
Edit
Finally, Archibald presents the "long lost musical of Gilbert and Sullivan," provided by The French Peas, entitled Lyle the Kindly Viking. Unfortunately, Archibald found out that this is not a musical, so the peas picked out a detective story, that of Bill Tracy.
Bill Tracy
Edit
What We Have Learned
Edit
In the closing countertop sequence, Archibald discovers that his story was not written by Gilbert and Sullivan, but rather by "Cavis Appythart" and "Millward Phelps". Angry at being duped, Archibald chases the French Peas off and the scene falls into chaos.
Elves and Elephants (Silly Songs with Larry)
Shiny Sea
Less
You're in a Birdcage Now
Be a Good Character of Respect
What We Have Learned
Respect is an Example of Building Your Character (Music video, played by Nicole Nordeman during the credits)
This is based upon the 1990 film Dick Tracy.
"The Tempo" is a spoof on a play called "The Tempest".
This is the second episode where Nicole Nordeman wrote her second music video from VeggieTales. The first music video she wrote for VeggieTales was "Beautiful for Me" from Sweetpea Beauty.
Archibald and the French Peas took over the show, like in Lyle the Kindly Viking.
The scene where the characters are in a cage is from "Minnesota Cuke and the Search for Noah's Umbrella".
Allusions
Edit
As the World Turns: Bill Tracy mentions "As the Celery Stalks"
Star Wars: In one scene, the Death Star appears.
Community content is available under
CC-BY-SA
unless otherwise noted.