This article belongs to VeggieFan2000. Please ask him/her/them before editing the article. If you do so without asking, or if the owner(s) say(s) no, you will get a warning. If you continue, you will be blocked.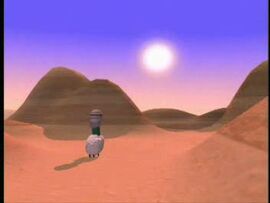 Big Things, Too
is a new sing-along DVD and is an addition to the Sing-Alongs DVD collection, following
More Beautiful
and
Happy River
. This was released at the same time as
Woody's Song
.
Big Things, Too from Dave and the Giant Pickle
The Bunny Song from Rack, Shack, and Benny
Forgiveness Song from God Wants Me to Forgive Them?!?
Oh No! What We Gonna Do? (from Where's God When I'm S-Scared?)
Pizza Angel (from "Minnesota Cuke and the Search for Samson's Hairbrush")
I'm Robin Hood from Minnesota Cuke and the Search for Samson's Hairbrush
I Want to Dance (from A Snoodle's Tale)
Stand Up! (from Rack, Shack and Benny)
Lost Puppies from Esther, The Girl Who Became Queen
We're Vikings from Lyle the Kindly Viking
Chapter Select Music
Edit
Chapters 1-4 is an instrumental of God is Bigger
Chapters 5-8 is an instrumental of That's Not Everything
Chapters 9-Bonus is an instrumental of We're Vikings
Transition
Edit
The music clip when the song transition scene appears is a bit from 110 Percent
Community content is available under
CC-BY-SA
unless otherwise noted.