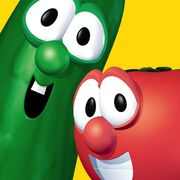 the next exciting episode of VeggieTales! the story of Bickey and his friends
The Countertop
Edit
Bob and Larry introduce the show normally for a change They introduce the show normally and then go to QWERTY to get the letter. QWERTY says the letter is from a kid named Jermey now Jermey once to know that she has to be a mouse Bob said that was a tough one, but that they have a couple of stories that just might help. Bob said to roll the film.
Bickey Mouse Clubhouse
Edit
Bickey Mouse, Minni Mouse, Lonald Duck, Paisy Duck, Poofy, and Bluto star in the series Pasiy Bo Peep Once the problem of the episode has been explained, Mickey invites viewers to join him at the Mousekadoer, a giant Mickey-head-shaped computer whose main function is to distribute the day's Mousekatools, a collection of objects needed to solve the day's problem, to Bickey.
Once the tools have been shown to Mickey on the Mousekadoer screen, they are quickly downloaded to Poodles, a small, Mickey-head-shaped flying extension of the Mousekadoer. By calling, "Oh Poodles!" Mickey summons him to pop up from where he is hiding and fly up to the screen so the viewer can pick which tool Mickey needs for the current situation.[2][3] One of the tools is a "Mystery Mousekatool", which is a surprise tool represented by a question mark and when the Mickey suggest using the Mystery Mousekatool or if only the Mystery Mousekatool is left, Mickey can call out "Mystery Mousekatool!" and the Mousekatool is revealed
The show features two original songs performed by They Might Be Giants, including the opening theme song, in which a variant of a Mickey Mouse Club chant ("Meeska Mooska Mickey Mouse!") is used to summon the Clubhouse. They Might Be Giants also perform the song used at the end of the show, "Hot Dog!
What We Have Learned
Edit
Larry and Bob liked the story and then it was time to talk about what they learned. They got their verse and then Bob, Larry, and Jermey said good bye.
Bickey Mouse Clubhouse Theme Song
Mousekatools Song
Robots Fun
Hot Dog Song
What We Have Learned Song
Bickey Mouse Clubhouse is parody of Mickey Mouse Clubhouse
Running Gags
Edit
Silly Song
Edit
Fun Songs With Laura "Robots Fun"
What We Have Learned song
Edit
Original
They Got a Letter From
Edit
Bob the Tomato (Bickey Mouse)
Larry the Cucumber (Lonald Duck)
QWERTY
Jermey
Madame Blueberry (Minni Mouse)
Petunia Rhubarb (Laisy Duck)
Pa Grape (Poofy)
Benny (Bluto)
Percy Pea (Poodles)
Community content is available under
CC-BY-SA
unless otherwise noted.