This article belongs to VeggieFan2000. Please ask him/her/them before editing the article. If you do so without asking, or if the owner(s) say(s) no, you will get a warning. If you continue, you will be blocked.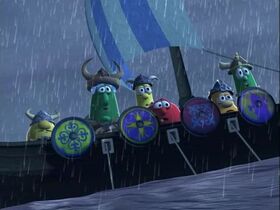 Better than Friends
is an installment in the VeggieTales sing-alongs series. It was released the same time as
Middle Schoolhouse Polka
.
Better than Friends from Veggie Warriors: Defenders of the Crisper Dynasty
Billy Joe McGuffery from Jonah: A VeggieTales Movie
Strange Things are Coming My Way from Toy Story
The Star Theives' Song from The Star of Christmas and Hanukkah Doesn't Get a Star
The Lord has Given from Josh and the Big Wall
Smile Song (Norm's Notes version) from VeggieTales VeggieTown Values on the Job: VeggieLand Fun
We're in Big Norm's Notes Trouble! from King George: Revenge of Norm's Notes
What Do You Think You're Doing? from Lyle the Kindly Viking
Feel Better! from The King of the East
Right Where I Belong from Princess and the Popstar
Bonus: The Thankfulness Song from Madame Blueberry
Chapter Selection
Edit
The instrumental for Chapters 1-4 is Better than Friends
The instrumental for Chapters 5-8 is We're in Big Norm's Notes Trouble!
The instrumental for Chapters 9-Bonus is The Thankfulness Song
Song Preview
Edit
The music clip when the song transition scene appears is a bit from Belly of the Whale
Community content is available under
CC-BY-SA
unless otherwise noted.