This article belongs to VeggieFan2000. Please ask him/her/them before editing the article. If you do so without asking, or if the owner(s) say(s) no, you will get a warning. If you continue, you will be blocked.
Best Friends Forever On a Date with Permission
is a sing-along DVD that follows both
Play Ball!
and
The Old Cafe
. It is released the same time as
Dance of the Luau
.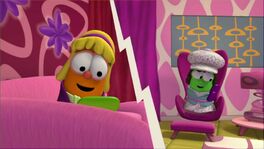 Best Friends Forever On a Date with Permission from Inspicable Me 2
Together from Celery Night Fever
Grumpy Kids from The Toy that Saved Christmas
The Feeling of Finishing from Sumo of the Opera
Juice and Jukeboxes from Samurai of the Opera
It Cannot Be from Jonah: A VeggieTales Movie
Woody's Song from Toy Story
Lend a Little Hand from The Little House that Stood
Look, Olaf! from Lyle the Kindly Viking
Bonus: A Little Bit of This from A Chipmunk Christmas
Scene Selection
Edit
Chapters 1-4 is an instrumental of Together
Chapters 5-8 is an instrumental of I'm Boo
Chapters 9-Bonus is an instrumental of Look, Olaf!
Song Preview
Edit
The transition that plays in between songs is Welcome You Aboard
Community content is available under
CC-BY-SA
unless otherwise noted.