This article belongs to VeggieFan2000. Please ask him/her/them before editing the article. If you do so without asking, or if the owner(s) say(s) no, you will get a warning. If you continue, you will be blocked.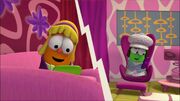 Best Friends Forever
is a sing-along DVD, and an addition to the Sing-Alongs series. This was released the same time as
Right Where I Belong
.
"Best Friends Forever" from "The Penniless Princess"
"The Dance of the Cucumber" from "Rack, Shack, and Benny"
"This is Rather Eerie" from "A Chipmunk Christmas"
"Alone" from "Princess and the Popstar"
"God is Bigger" from "Where's God When I'm S-Scared?"
"What Can a Baby Do?" from "Duke and the Great Pie War"
"South Dakota" from "Sheerluck Holmes and the Golden Ruler"
"The Forgiveness Song" from "God Wants Me to Forgive Them"
"The Biscuit of Zazzamarandabo" from "Tomato Sawyer and Huckleberry Larry's Big River Rescue"
"Chog Norrius" from "MacLarry and the Stinky Cheese Battle"
Bonus: "With a Ha-Ha-Ha" from "The Wonderful Wizard of Ha's"
Chapter Selections
Edit
The instrumental for Chapters 1-4 is Best Friends Forever
The instrumental for Chapters 5-8 is The Forgiveness Song
The instrumental for Chapters 9-Bonus is Chog Norrius
Song Preview
Edit
The transition that plays inbetween songs is a bit from The Hairbrush Song.
Community content is available under
CC-BY-SA
unless otherwise noted.